Up close
His remarkable and unique style of magic is performed in a very distinctive and intimate way—this is magic in its purest form. Sleight-of-hand, not on stage but directly before you.
World renowned
David has performed the world over. He has made television appearances in South America, Europe, Japan, and of course the United States, where he has been seen on the David Letterman show, HBOs "Magical Moments," and other network appearances over the years. David Roth is one of the finest sleight-of-hand performers in the world.
Lauded by his peers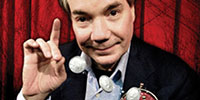 Two-time winner of the coveted Magician of the Year award at the Magic Castle, and their Creative Fellowship for Lifetime Achievement in Magic. He received the Medal of the Inner Magic Circle with Gold Star from the Magic Circle in England. As magic consultant to Ricky Jay in "Ricky Jay on the Stem" and "Ricky Jay and His 52 Assistants," he traveled extensively with Jay in the hit show.
Prepared to impress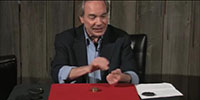 He has honed his remarkable skills the way a concert pianist would, and he is continually developing new routines and adaptations of classical ones. His style, his wit, his affability and his charm are unequaled, and he is an asset at any kind of event you may be hosting—cocktail parties, birthday parties for adults, trade shows, corporate events—you name it!